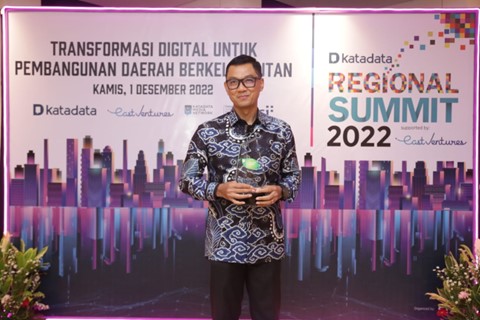 The Company uses several energy sources, both renewable and non-renewable energy. Non-renewable energy includes coal, fuel, natural gas, and others, while the use of renewable energy includes biomass energy used in power plant operational activities. To reduce the use of non-renewable energy, the Company strives to make various initiatives including the integration of new and renewable energy. The Company runs an energy efficiency program to reduce the use of energy for own use in the generating unit.
With "Green" aspiration, PLN Increase generation capacity with a focus on NRE, to support the achievement of electricity procurement that is more environmentally friendly. In the Green target, three breakthroughs were set, namely the Implementation of RJPP EBT 2019-2024, Launching of "Green Booster", and launching of "Large Scale Renewables.
In line with the government's plan to increase the role of NRE in the national energy mix which is targeted to reach 23% by 2025, PLN GG is ready to play a role in realizing the NRE target by playing an active role in the development of Geothermal Power Plants.
In supporting the energy transition process, PLN has carried out various initiatives. For example, PLN has created a roadmap to switch to green energy according to the greenest Electricity Supply Business Plan (RUPTL) in history. Namely, with a target of 51.6 percent additional EBT-based generators or around 20.9 GW by 2030.
Apart from that, PLN is also encouraging the ecosystem of electric motorized vehicles in Indonesia. This support is carried out by providing infrastructure for Public Electric Vehicle Charging Stations (SPKLU) spread throughout Indonesia.
As a form of appreciation from other parties, PLN won 19 Awards at ISDA 2022 event. ISDA 2022 is an award event presented to companies that save energy, carry out environmental conservation and social activities in the community, as well as various positive things as a contribution to achieving the Sustainable Development Goals (SDG) or Sustainable Development Goals. PLN was appreciated because of its concern to keep the success of sustainable development. PLN contributes well to society and the environment to provide a better future for future generations.
On December 1, 2022, PT PLN (Persero) also won the Green Initiative Award for the company's concrete actions in running a green economy and supporting the energy transition in the country. The government gives high appreciation to companies that are committed to driving a green economy. This award can be an encouragement and inspire other companies to support the green economy.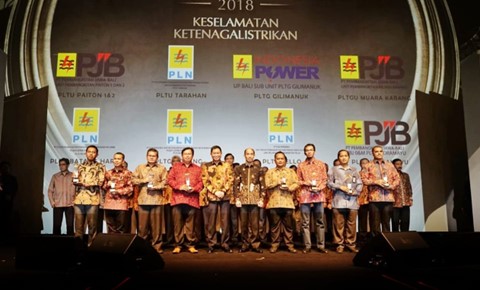 Continuous efforts to reduce cost of electricity supplies are also made by reducing the use of fuel oil and optimizing power production from primary energy sources of lower prices in order to carry out the Government's mandate to keep electricity prices stable and to maintain people's purchasing power and industrial competitiveness.
PLN commits by 2030 to conduct a program that is carried out periodically by monitoring and reporting on energy consumption every month to doubling energy efficiency improvements at the global level. This strategy is purposedly done to achieve the best energy efficiency management so that the use of electrical energy can be saved.
President Director of PLN Darmawan Prasodjo stated that PLN fully supports the government's commitment to reduce carbon emissions. So, this transition agenda is important not only for the sake of obtaining clean energy but also shifting from fossil energy which is based on imports to domestic-based EBT. This is where the important role of the utilization of water and geothermal resources for the development of hydroelectric power plants (PLTA), micro-hydro power plants (PLTM), and geothermal power plants (PLTP).
In 2022, PLN has conducted an EBT generator of 1.5 GW. Along with this strategy PLN has carried out many programs including 5 collaborations related to EBT development with various parties. By now, PLN's EBT generators have reached 8,512 MW.
PLN also continuously develops its capacity in order to follow and anticipate the development of regulations, policies, and technology in resource management. For its excellent performance, PLN won a non-monetary award given by the Ministry of Energy and Mineral Resources to the Government and stakeholders who have successfully implemented energy efficiency and conservation in the industrial and building sectors, as well as within government agencies, called Subroto Awards.
PT PLN (Persero) Group won 25 (twenty-five) awards at the 2022 Subroto Award which was held by the Ministry of Energy and Mineral Resources (ESDM) on Tuesday, October 4, 2022. The highest award in the field appreciates stakeholders who have done their best in advancing the Energy and Mineral Resources sector in Indonesia.
16 (sixteen) PLN Group power plants won 18 (eighteen) Subroto Awards in the Field of Energy Efficiency (PSBE), the sixteen plants were:
PLTGU Muara Karang,
PLTGU Gresik (2 awards),
PLTGU Tambak Lorok,
PLTGU Muara Tawar,
PLTGU Priok,
PLTG Pesanggaran Bali,
PLTU Tanjung Jati B,
PLTU Paiton,
PLTU Pacitan,
PLTU Indramayu,
PLTU Rembang,
PLTU Pelabuhan Ratu (2 awards),
PLTU Tanjung Awar-Awar,
PLTU Tenayan,
PLTA Brantas, and
PLTA Cirata.
PLN also won six awards in the Electricity Safety category. The six power plants were:
PLTGU Paiton,
PLTU Suge Belitung,
PLTGU Gresik,
PLTG Sambera,
PLTA Cirata, and ,
PLTA Asahan.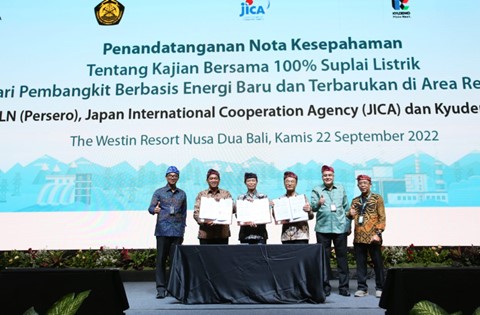 PLN is ready for collaboration in dealing with the energy crisis and climate change. In accelerating this program, to speeding up Green Energy Development, PLN Collaborates with Japan and China to Study the EBT Technology.
The EBT development cooperation was marked by the signing of several memorandums of understanding (MoU) between PLN and the Japan International Cooperation Agency (JICA), Kyudenko Corporation, and the China Renewable Energy Engineering Institute (CREEI) regarding low carbon technology in Bali, September 22, 2022.
The three EBT technology study cooperation agreements include:
PLN together with JICA and Kyudenko Corporation work in regards with a Joint Study of 100% electricity supply from new and renewable energy-based generators in remote areas.
PLN and CREEI work in regards with Cooperation in the Technical Support Program for Low Carbon Technologies and Environmental and Social Protection.
PLN together with the Center for Electricity Survey and Testing and EBTKE work in regards with the Survey and Study Program for New and Renewable Energy Generation.
In saving resources, PLN focuses on reducing water usage as well. The Company needs water for domestic and operational activities which is supplied from ground water, PDAM water, surface water and sea water. Ground water and PDAM water are used for domestic activities, meanwhile sea water and surface water are used for turbine propulsion (in PLTU and PLTA) and as a cooler or maintainer of generator temperature stability in all types of generators. PLN is committed to managing water properly and wisely in order to maintain the sustainability of water sources on earth.