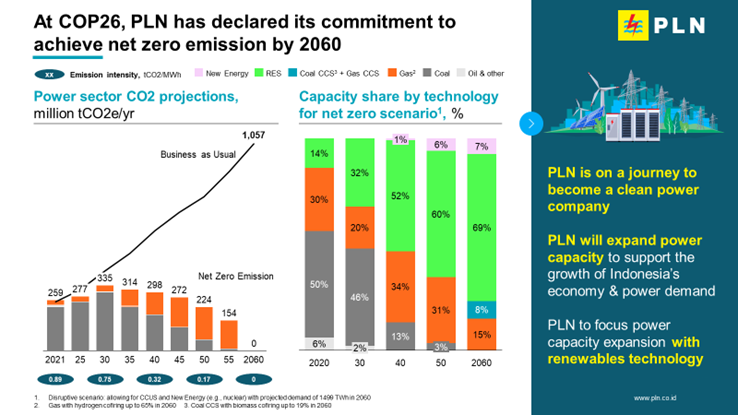 At COP 26, PLN has announced its commitment to achieve Net Zero Emissions by 2060. PLN will focus on expanding power capacity using clean energy to support Indonesia's economic and power demand growth. Under Net Zero Emission scenarios, emissions will peak in 2030 and then gradually decline until they reach Net Zero by 2060. This will reduce 1,057 million ton of greenhouse gas emission in 2060, compared to business as usual scenario.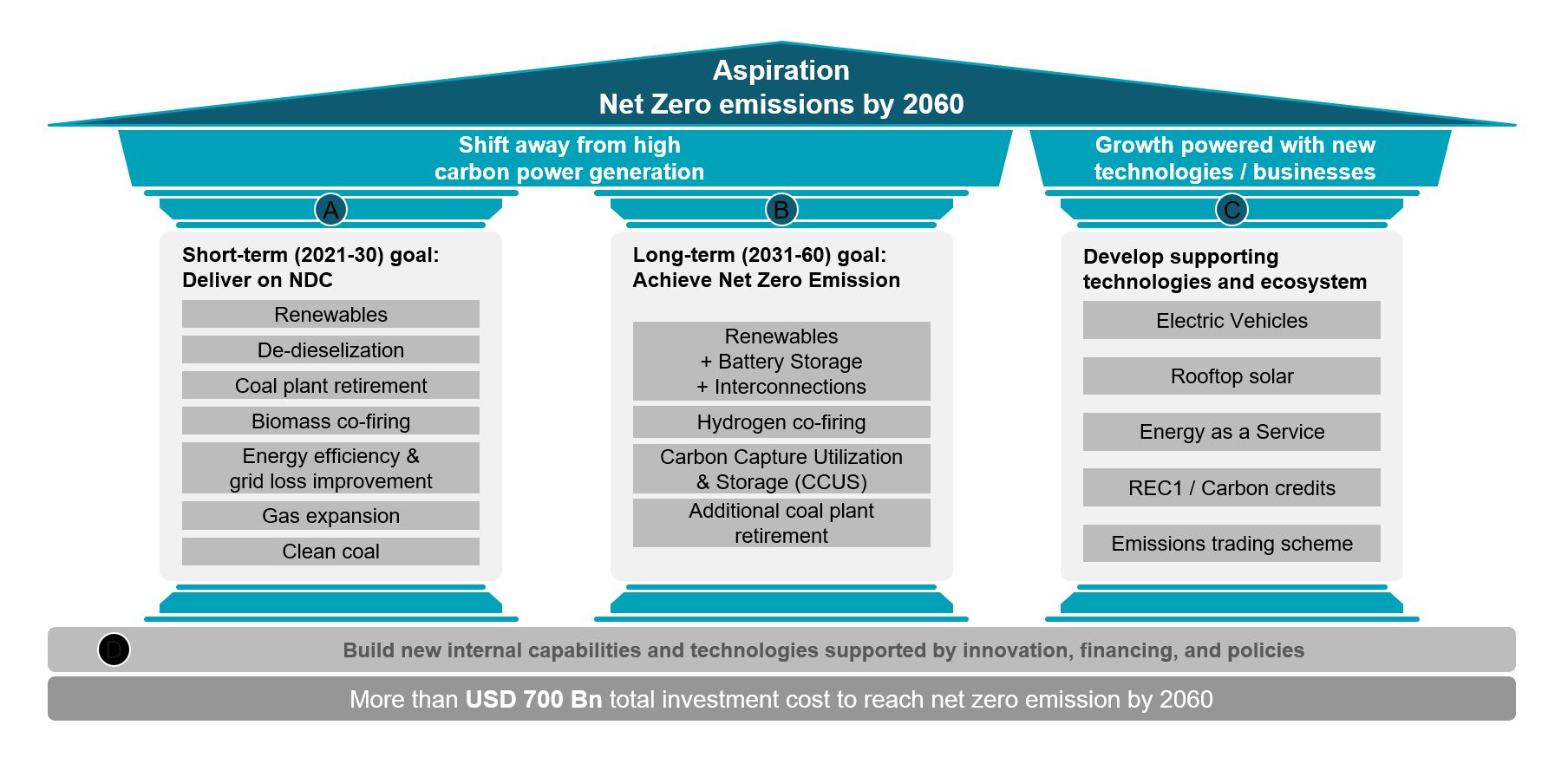 PLN has developed a comprehensive roadmap to achieve Indonesia's Nationally Determined Contribution by 2030 and to pursue Net Zero Emissions by 2060. Our strategy is centered on shifting away from high carbon power generation and maintaining growth through new technologies and businesses.
Six strategic initiatives are being and will be implemented to support NDC 2030, namely the development of new and renewable energy-based power plants, the conversion of diesel power plants to renewable energy, the retirement of coal power plants, biomass co-firing, energy efficiency and network losses reduction, and the expansion of gas plants
PLN also has four other strategic initiatives in its long-term strategy to achieve the Net Zero Emissions target by 2060. These include the addition of large scale renewable energy complemented with batteries and grid interconnection, the hydrogen-based co-firing, the adoption of carbon capture and storage (CCS) and the early retirement of coal power plants.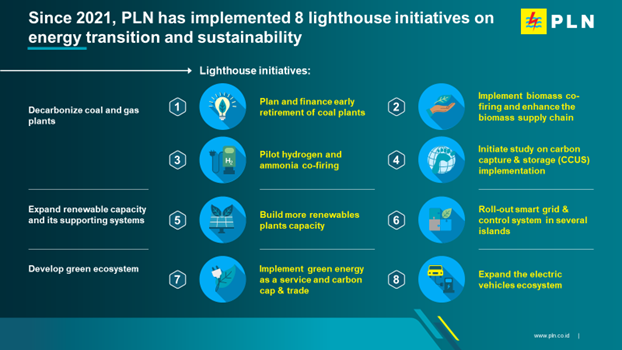 Since COP 26, PLN has implemented eight Lighthouse Iniatiaves on Energy Transition. These Initiatives are manifestation of PLN vision to achieve Net Zero Emission by 2060. By deploying the lighthouse initiatives to PLN units and subsidiaries, PLN ensures that each element in PLN participates in the energy transition agenda.
The eight lighthouses initiatives are divided into three categories. The first category is the decarbonization of coal and gas power plants. The second is to increase renewable capacity and its supporting systems. And, the third is to develop green ecosystems.
PLN initiated the decarbonization of coal and gas plants by planning the financing for coal plant early retirement, implementing biomass cofiring, studying hydrogen & ammonia, and studying carbon capture and storage technology.
To meet Indonesia's growing electricity demand with green energy, PLN is building more renewable power plants and rolling out smart grids as a support system.
PLN also invites people and businesses to participate in the development of green ecosystems, by enabling renewable consumption through green energy as a service and expanding the electric vehicle ecosystem.